South Street Seaport / August 17, 2007
by Doktor John /
New York City
New York's "River-to-River Festival" hosted up-and-comers The National on a drizzly Friday night to a huge crowd of clean-cut hipsters.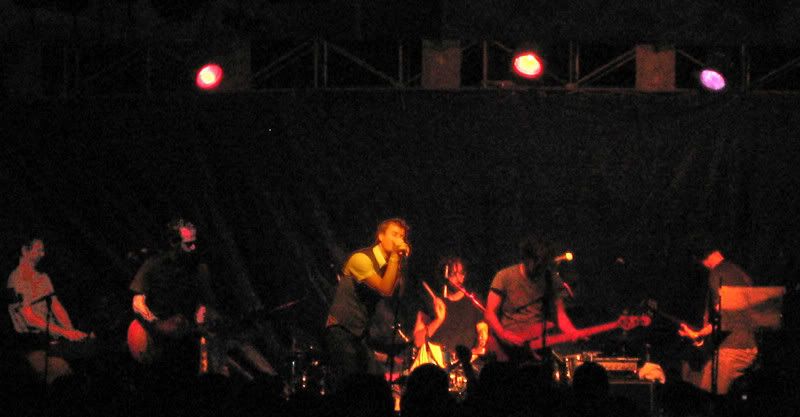 You can no longer consider yourself hip, nor the possessor of secret knowledge about a brilliant undiscovered band, when you hear them featured on National Public Radio. That's what happened as I tuned my car radio en route to my first performance of TN.
Originally from Ohio, now Brooklyn-based, these indie rockers can be seen as epitomizing mellow middle America, with their happy-sad, musically engaging songs, in the emotional style of Toad the Wet Sprocket.
Characterized by brilliantly composed and ingeniously arranged pop—the kind that rarely gets play on commercial radio or MTV and sounding reminiscent of Modest Mouse or Interpol in a state of clinical depression, the six-man TN plucked heartstrings with heavy themes, soft-spoken lyrics, marching-band rhythms, and hook-laden melodies that immediately took hold of the listeners' emotions.
Singer Matt Berninger (whose has some of the vocal qualities of 60s folk giant Burl Ives) used his considerable skills sparingly, sometimes lapsing almost into quiet speech or holding back completely, allowing the ingenious arrangements and highly capable musicians to carry the crowd to heights of listening pleasure .
They opened with the mellow "Start a War" and played for a little over an hour, featuring many well-known (in any case well-known to that crowd) tracks including "Fake Empire" and the upbeat, rousing "Abel." They're supposed to be a quintet according to their website, but I counted 6 performers on stage. The violinist particularly added a touch of hard-rocking zest to an otherwise sedate musical style.
So seductive were the National's mesmerizing melodies and their compelling cadences, that I have remained hooked on them for days afterwards, and at this point find myself obsessively listening to nothing else as I search out everything in their repertoire for my collection!
Link to their website The National