JULY 27, 2006
NYC
The Lower East Side bar/club Sixes and Eights (is it 6s and 8s ?) was the venue for a special event sponsored by Chamber irresistibly entitled INDUSTRIAL MAYHEM on this Thursday night.

The big draw was the headline-band Informatik an exceptionally accomplished techno-industrial duo who were en route to the Black Sun Festival A fan of Informatik since their 2002 magnum opus "Nymphomatik" I have appreciated their industrial rhythms, reminiscent of Frontline Assembly, as well as their penchant for their trippy, synthetic melodies with string-like voices. Also impressive on their recordings were the menacing, dark vocals, altered electronically to sound like a small male chorus singing in unison.
Opening act Nuclear Riot Act an all female noise factory with old-school punk vocals and a percussionist who was armed with an electric megaphone and who worked off a section of chain-link fence that was set up with all kinds of noisy pots and pans to test the tensile strength of our tympanic membranes!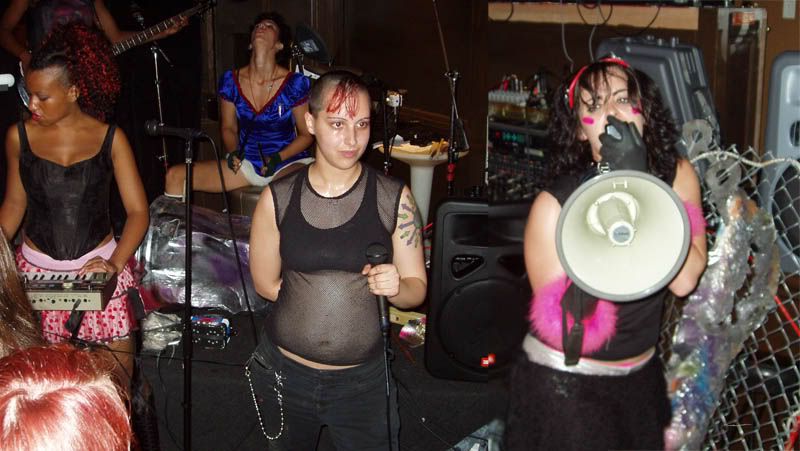 Next up, our friends Xian (pronounced "Christian") and Lance of Eisdriveperformed a set of semi-experimental electro-industrial that had some mesmerizing grooves.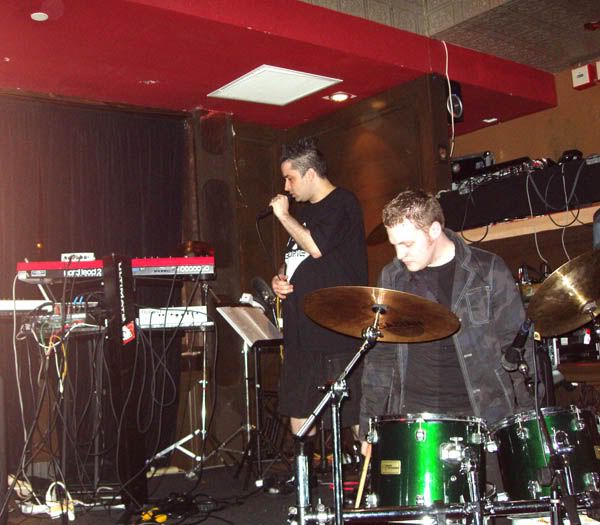 Time was ticking away, when around midnight the band Cesium 137 came on and got the spectators up on their feet to dance to their interesting and peculiar blend of techno-combined-with-European-wedding-band (DON'T TELL THE GIGANTIC and MEAN-LOOKING FRONT MAN I CALLED THEM THAT!)


Fortunately Deviant UK had cancelled, so at 1:00 AM headliner Informatik took the stage. They are a duo originally from Boston circa 1993, now relocated since 2002 to San Francisco fronted by Da5id (pronounced David) Din, vocalist and programmer, and Tyler Newman keyboards. Both of these highly accomplished electronic-whiz musicians have side projects galore, and unfortunately it shows. They were ill-prepared for this performance of Informatik, to say the least. Din's use of reverb on the microphone vocals sounded weak and out of place compared with the deep, distorted and choral effects one came to expect from their recordings.


What's worse, they hadn't even bothered to prepare a play list. That's right! They may have had an electronic glitch that prevented them from calling up their digitial data for most songs, or they just hadn't given it a thought when they took the stage. So after opening with a great track off their only killer album (Nymphomatik (we were able to forgive the crappy vocals because the song itself is so wonderful), they resorted to calling for requests. A lot of people like Informatik, but not so well that they could recall the names of songs they wanted to hear! When their one, best song "A Matter of Time" was requested, Din arrogantly refused the request to the disappointment of several spectators standing next to your reporter who had been looking forward to nothing other than that one song!
They finished in no time at all, putting forth maybe five, at most six pieces, few of which were familiar and none of which could be identified with the sound heard on their recordings! It was a sad disappointment to have wasted a whole evening and part of the next morning waiting for a kick-ass performance only to have Infomatik go out, not with a bang but a whimper for lack of preparedness, both technical and artistic…and for refusing to meet the expectations of their audience.